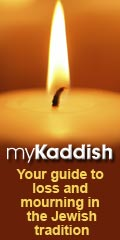 Model of King Solomon's Second Temple
To learn more about this Re-creation follow this link
Link to Temple
King Solomon's Second Temple Jerusalem built 514 BCE destroyed 70 CE in the Jewish revolt against Rome.
This hand painted reproduction is based on the dimensions of King Solomon's temple discussed in the Talmud and Maimonides.
For ordering information contact

www.templemodels.com
Mourner's Prayer (Kaddish):

Kaddish is a traditional prayer that is said daily with a quorum of at least ten Jewish males who are over the age of thirteen. The mourner stands and says the Kaddish while the quorum responds in unison with the appropriate phrase (to see prayer click). The Kaddish is said from the day of burial, daily for the first eleven months, and on the anniversary of the death. If there is no one to say Kaddish for the deceased then our organization will provide this important service to be said.
The Rabbis teach us that Kaddish is a source of merit for the soul. Also, when you give charity in the name of a deceased, it can abolish evil decrees.
To Have Kaddish Said
You must have Java enabled or on to see and use the calendar
---